Photography Contest

Raccont'arti – Castelfiorentino Prize for the Arts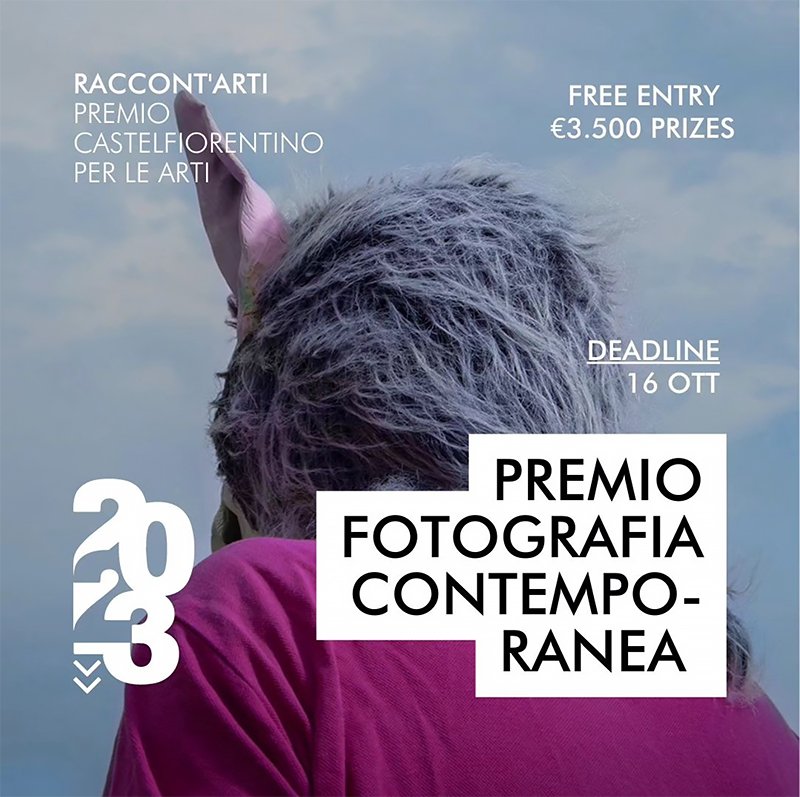 Deadline |
10/16/23
Theme |
Open
Territory |
Worldwide
Eligibility |
Open to all
Entry Fees |
FREE
Prizes |
Cash Prize

Do you have a completed or advanced photographic project? Are you an individual photographer or a collective? Here is a unique opportunity to stand out in the panorama of contemporary photography. A prestigious jury will select a shortlist of participants and among them two absolute winners (Open and Student Categories), for an award ceremony and exhibition in Castelfiorentino. The winning projects will be published in a printed magazine and the announcement will be widely publicised in both traditional and online media.

CATEGORIES: Student and Open.
PRIZES:
• Open 3,000 €
• Student 500 €
• Exhibition of winners and shortlisted entries at Oratorio di San Carlo and Teatro del Popolo in Castelfiorentino
• Publication of winning portfolios in 'Gente di Fotografia' magazine

PARTICIPATION CRITERIA:
• Over 18 years of age
• Both individual and collective
• The submitted project must not have been awarded at the time of submission
• Sending via PDF files under 15 megabytes

SHORTLIST ANNOUNCEMENT: 10 November 2002 on the Prize website
PRIZES AND EXHIBITIONS: 26 November 2022 at 5 p.m. at the Teatro del Popolo in Castelfiorentino, Exhibition of the winners and short-listed entries at the Teatro del Popolo and the Oratory of San Caro in Castelfiorentino JURY: Luca Andreoni, Vittore Buzzi, Niccolò Fano, Michele Palazzi, Fiorenza Pinna. A jury made up of artists, photographers and teachers committed to the practice and dissemination of contemporary photography.
Featured Photo Contest
$1,000 cash prizes | Winning image(s) published in AAP Magazine #35 | Extensive press coverage and global recognition
Best Photography Contests in 2023
Each year, there are hundreds of photography competitions all over the world, so we've decided to select for you the best of the best! Our selection of the best photo contests in 2023 is thoroughly curated to help you, whether you are a professional photographer or an amateur, to help find your next creative breakthrough. These all-star competitions offer the greatest opportunities for international exposure and/or incredible financial benefits. Some of them are closing soon, so get your photo submissions in!