Photography Contest

Earth.Org Photography Competition 2024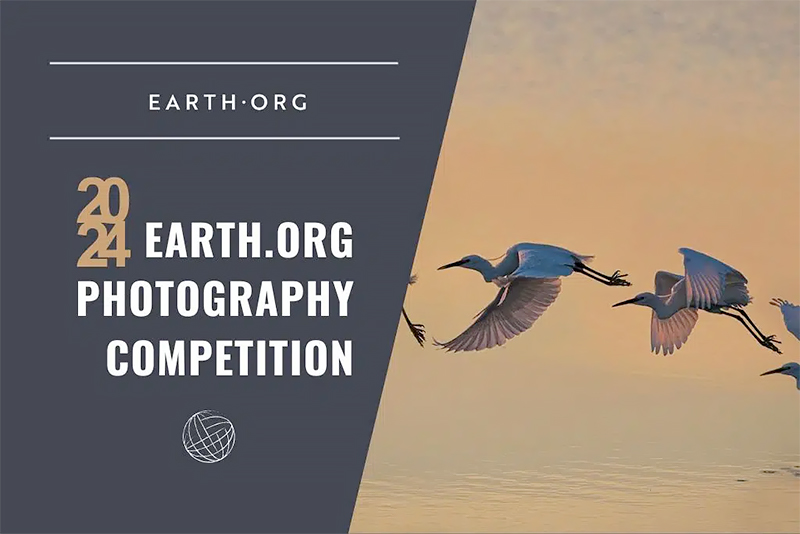 Deadline |
04/26/24
Theme |
Wildlife in Peril & Climate Action
Territory |
Worldwide
Eligibility |
Open to all
Entry Fees |
FREE
Prizes |
Cash Prize

As the saying goes: "A picture is worth a thousand words". We at Earth.Org strongly believes that photography and imagery has the power to inspire, educate and galvanise action into protecting and preserving our home and planet. Our Climate Crisis Photography Competition 2023 saw more than 500 talented photographers from over 60 countries submit their work, all of whom share a passion for the environment, uncovering our planet's natural beauty while highlighting our changing planet and the impacts of human activities. Stay tuned to find out who the winners are. In the meantime, you can check out the full list winners of the 2022 Competition here. EO Photography Competition 2024: Categories We invite explorers, adventure travellers, professional photographers and photographers working on the front line of wildlife conservation across the world to submit their photographs for the following categories: 1. Wildlife in Peril Document or highlight the biodiversity and wildlife struggles caused by climate change and human activities. For example: animals suffering, trapped or endangered. 2. Climate Action Photographs that capture environmental protests (youth or widespread), climate solutions in practice, or actions of change (renewable energy, sustainable activities, beach clean-ups, etc). 3. Overall Winner 6 of the best photos to be chosen from the two categories above 2024 Prizes The Winner of the Earth.Org "Overall Best Environmental Photo" 2023 will be awarded with US$500. The Winners of the two sub-categories "Wildlife in Peril" 2023 and "Climate Action" 2023 will be awarded with US$250 each. All entries must be received by April 26th, 2024. All Winners will be invited to take over the Earth.Org Instagram page for a week each. All Winners will be interviewed for articles on Earth.Org and given the chance to showcase their work on our website or in our articles. Winners will be announced on our website and notified via email by June 23rd, 2024.
Featured Photo Contest
$1,000 cash prizes | Winning image(s) published in AAP Magazine #35 | Extensive press coverage and global recognition
Best Photography Contests in 2023
Each year, there are hundreds of photography competitions all over the world, so we've decided to select for you the best of the best! Our selection of the best photo contests in 2023 is thoroughly curated to help you, whether you are a professional photographer or an amateur, to help find your next creative breakthrough. These all-star competitions offer the greatest opportunities for international exposure and/or incredible financial benefits. Some of them are closing soon, so get your photo submissions in!