Photography Contest

The Environmental Photographer of the Year 2023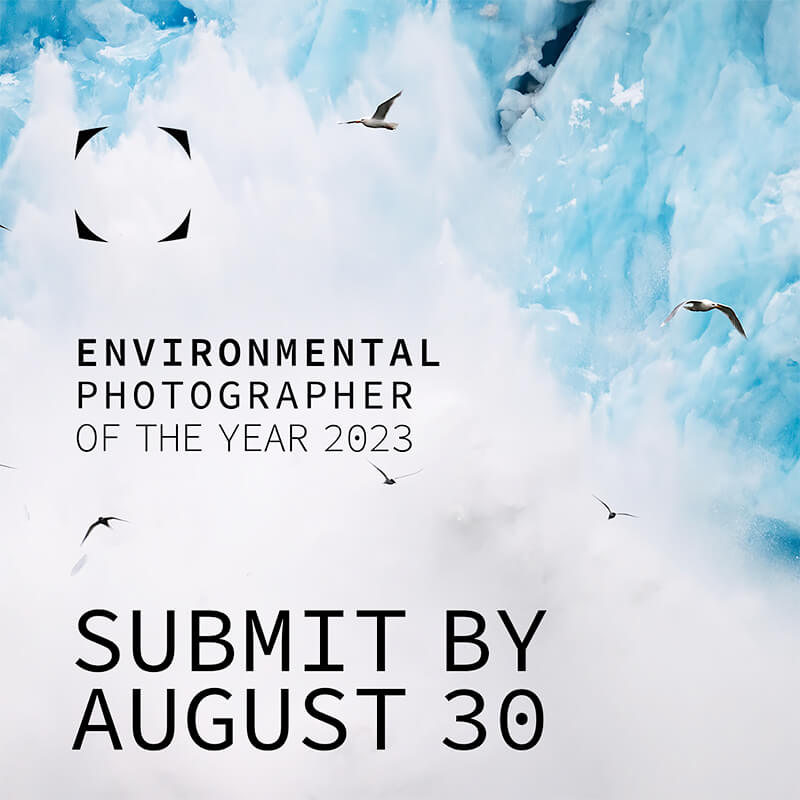 Deadline |
CLOSED
Theme |
Several Categories
Territory |
Worldwide
Eligibility |
Open to all
Entry Fees |
FREE
Prizes |
Cash Prize

Now in its 16th year, The Environmental Photographer of the Year competition showcases the most inspirational environmental photography from around the world. The award celebrates humanity's ability to survive and innovate and showcases thought-provoking images that call attention to our impact and inspire us to live sustainably.

All photographs submitted must have been taken after 1 January 2022. Each entrant may submit a maximum of three photos.

Some digital adjustment or editing is allowed, but entrants should understand that the objective is to remain faithful to the original experience and to never deceive the viewer or misrepresent reality.

Entrants must be the sole author and owner of the copyright for all the entries they submit, or they must have obtained permission from the copyright holder to submit the entries on their behalf. The photographers retains the copyright to all their entries.

Prize
Environmental Photographer of the Year: 5,000 GBP (approx. 6,350 USD) cash prize. Young Environmental Photographer of the Year: Nikon Z Camera + two Nikkor lenses. Also, additional 1,000 GBP cash prizes are awarded in the following four categories: Vision of the Future, Recovering Nature, Keeping 1.5 Alive, Adapting for Tomorrow.
Featured Photo Contest
$1,000 cash prizes | Winning image(s) published in AAP Magazine #35 | Extensive press coverage and global recognition
Best Photography Contests in 2023
Each year, there are hundreds of photography competitions all over the world, so we've decided to select for you the best of the best! Our selection of the best photo contests in 2023 is thoroughly curated to help you, whether you are a professional photographer or an amateur, to help find your next creative breakthrough. These all-star competitions offer the greatest opportunities for international exposure and/or incredible financial benefits. Some of them are closing soon, so get your photo submissions in!