Photography Contest

212 Photography Istanbul 2023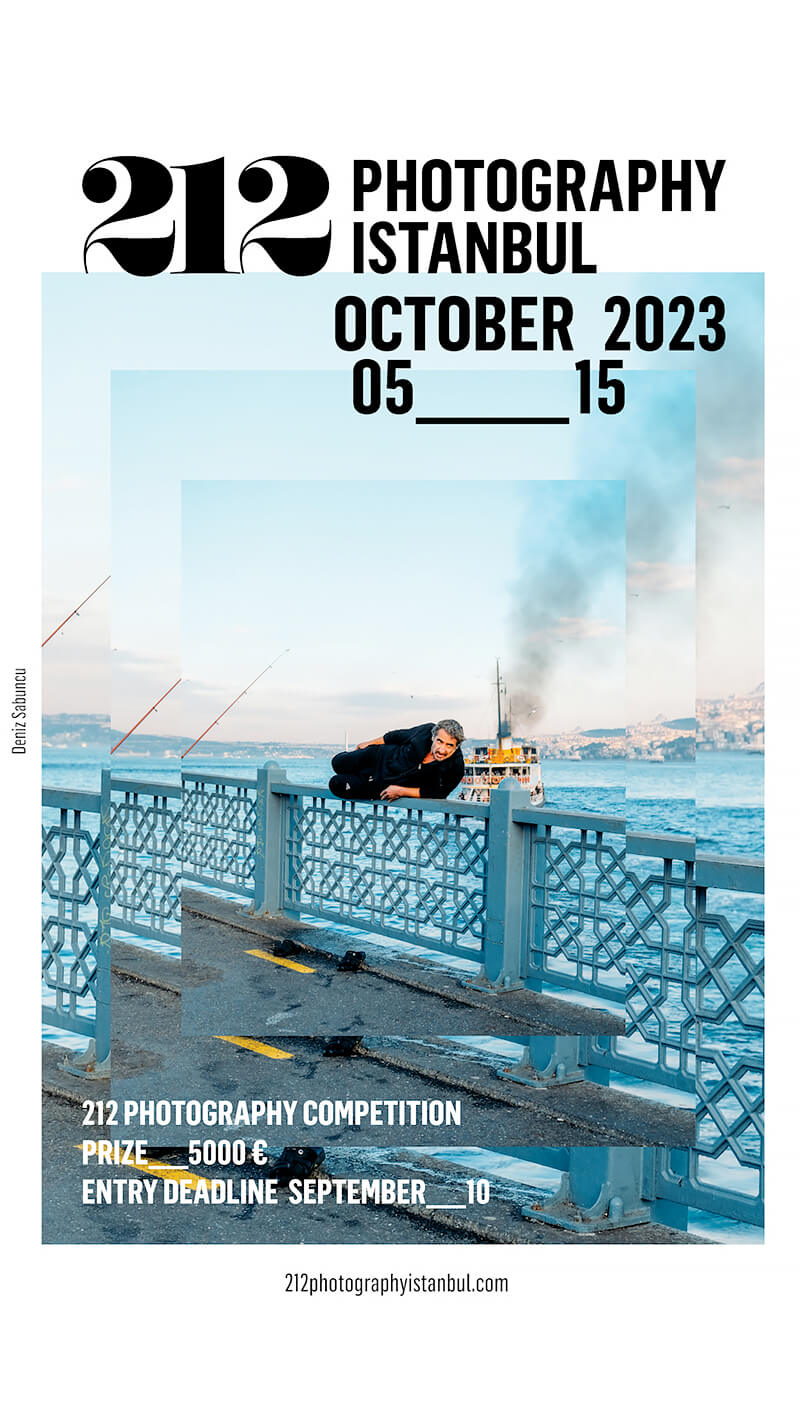 Deadline |
CLOSED
Theme |
Open
Territory |
Worldwide
Eligibility |
Open to all
Entry Fees |
20 Euros
Prizes |
Exhibition

The International 212 Photography Competition, organized within the scope of 212 Photography Istanbul which will take place between 5-15 October 2023, aims at discovering photographers from different backgrounds around the world and opening up the space to bring together different experiences. The competition is awaiting the applications of amateur and professional photographers of all ages who are interested in the art of photography until 10 September 2023.

As every year, the jury of the 6th edition consists of respected and influential names in their fields; Marga Rotteveel, board member of Nederlands Fotomuseum, co-founder and director of Docking Station; Erik Vroons, editor-in-chief of GUP Magazine, jury of Rotterdam Photo 2023; Fiona Shields, head of photography at The Guardian; Ali Taptık, artist, architect, publisher and founder of Onagöre Design and Publishing..

Since 2018, the International 212 Photography Competition has been featuring the selected works of the 10 finalists with a special exhibition during the festival period; as well as an award of 5000 Euros given to the first place winner. Since the first year of the competition, it has been contributing to increasing the visibility of the competition winners and those honored by the jury; facilitates their features in local and international press. The names of the winners in order from 2018 to 2022 are as follows; Noppadol Maitreechit (Thailand), Ekin Çekiç (Turkey), Fabiola Cedillo (Ecuador), Bas Losekoot (Netherlands), Serhat Kır (Turkey) and the special jury selections: Arzu Kıraner (Turkey), Ceren Balmumcu (Turkey), Ehan Çelik (Turkey)..

This year, the shortlist consisting of 10 photographers will be announced on October 3, 2023, and the winner of the competition will be announced via online channels at the start of the festival on October 5th..

In addition to the new themes, collaborations and rich content it integrates every year, the 6th edition of the 212 Photography Istanbul will expand its program to nearly 20 different venues in Istanbul for 11 days, offering a route of discovery in the city.
Featured Photo Contest
$1,000 cash prizes | Winning image(s) published in AAP Magazine #35 | Extensive press coverage and global recognition
Best Photography Contests in 2023
Each year, there are hundreds of photography competitions all over the world, so we've decided to select for you the best of the best! Our selection of the best photo contests in 2023 is thoroughly curated to help you, whether you are a professional photographer or an amateur, to help find your next creative breakthrough. These all-star competitions offer the greatest opportunities for international exposure and/or incredible financial benefits. Some of them are closing soon, so get your photo submissions in!